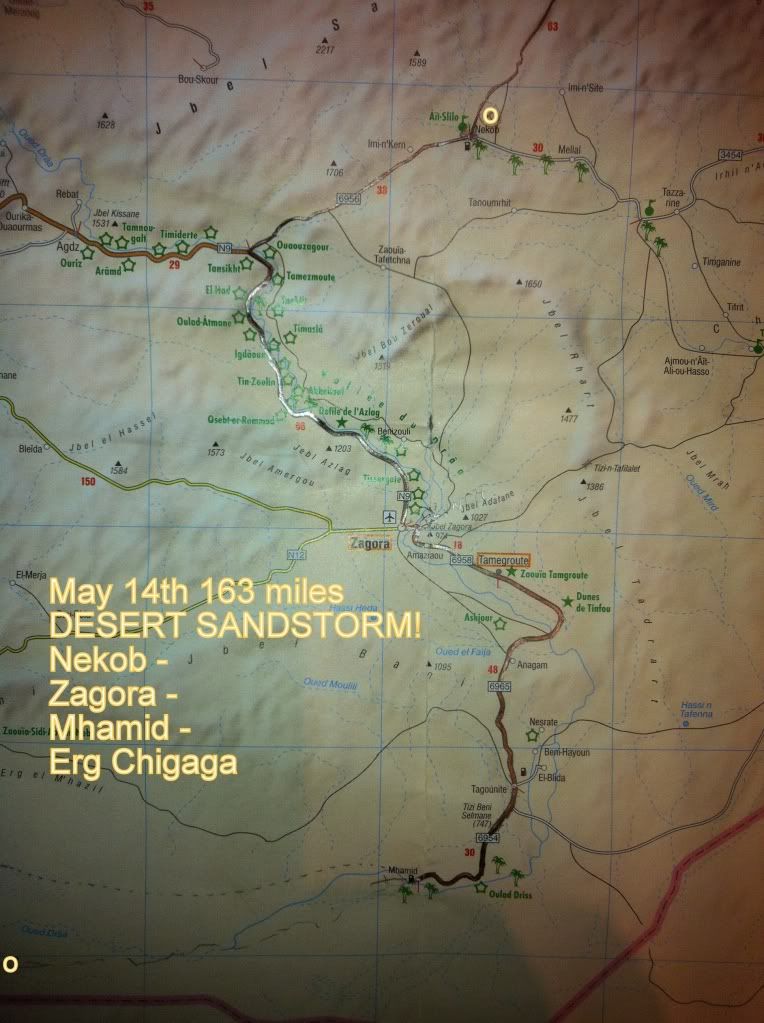 Sandstorm!
Stopping off at Zagora for Mick and Paul's landies to receive running repairs, the group of battle - hardened veterans wended their weary way to the last town at the end of the road.
Mhamid's hotels all line up impressively well before the outskirts, a sharp contrast to the tawdry 'wild west' final frontier nature of the place itself. Although prosperous Zagora was traditionally the end of the road, the map shows Mhamid now boasts the honour, if little else. We did, however, manage to find a tiny 'shop' selling camel meat, the treat for tonight.
After haggling and many heavy strokes with an enormous cleaver, the resulting bag of protein was to feed us all in the dunes.
One final check under the vehicles, we were about to set off into the unknown, when a sad looking but very expensive Porsche 4x4 limped back into town.
Patrick was leading with our guide, the weather looking a tad hazy, with dust devils reinforcing the shanty flavour of our position.
Acknowledging a group of bikers, we set off into the unknown. The sand was a mixture, some very fine, softened by recent rain, which had fell on our dusty charges.
The weather worsened, the desert wind picking up as visibility fell a tad, then dramatically.
With many twists and turns through low dry river beds and small dunes, some land rovers got stuck. Progress became slower as the light faded, winding through the numerous callotropice bushes, their poisonous pear-like fruits laughing at us. We became separated as another wheel sank. As our heroic guide Yahya left the two stationary leading cars to seek the others, running away Ninj-like in seeming slow-motion, we shared worried looks and wrapped our heads in cloth to protect us from the fierce windblown sand.
Some long minutes later, lights appeared out of the gloom. We were reunited, but had not reached the protection of the high dunes. Reluctantly, camp was carefully set up where we were in tight formation against the driving wind, extra tarps pegged and edges buried in sand.
Finally the wind died somewhat, enough to make camp, start the barbecue and begin mincing the camel (as you do). John's ancient device was clamped to the bumper as Louise turned the screw. Paul, our expert chef, then made the burgers, we tucked in and spirits were revived.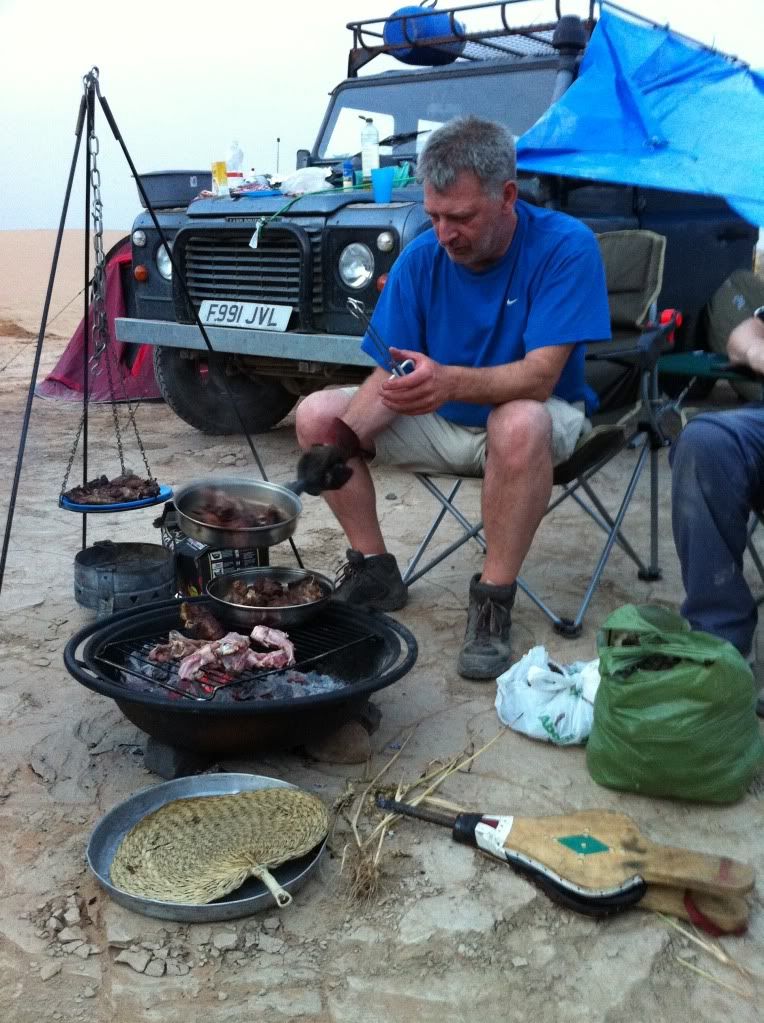 Fanciful thoughts of sleeping outdoors, however, were dashed as the storm returned, so we battened down the hatches and slept fitfully.
What a day!
- Posted using BlogPress from my iPhone