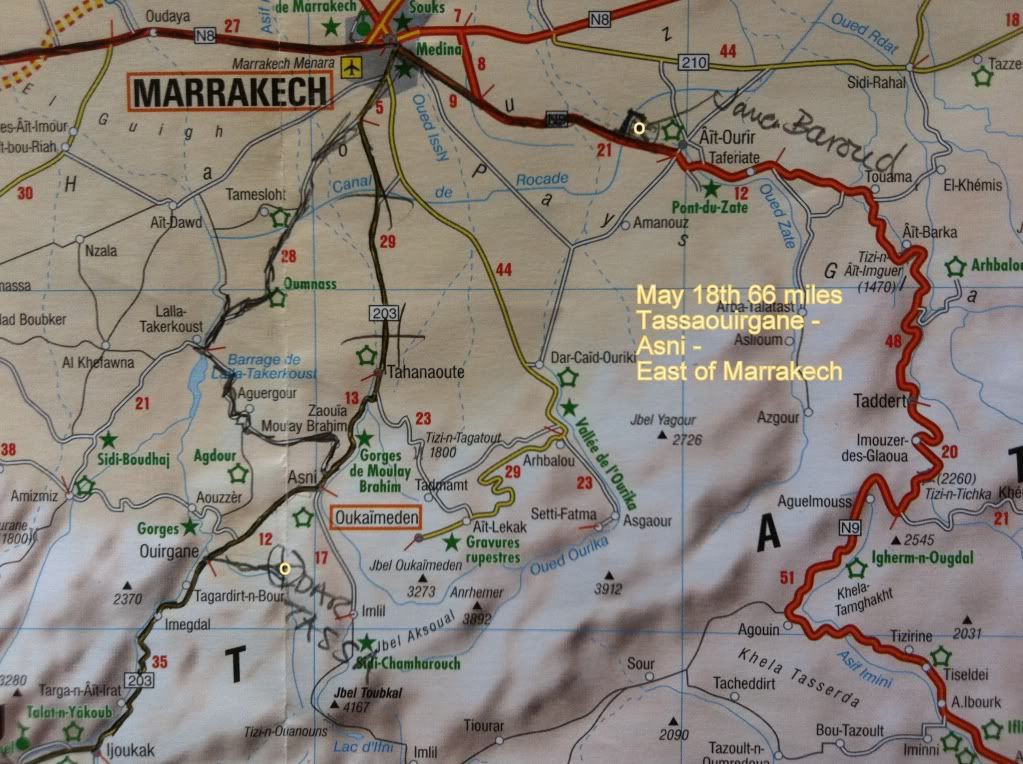 Marrakech Express
Waking to thick cloud, we enjoyed it clearing up the valley to reveal a precise, colourful vista.
Sadly, after breakfast, we bade farewell to three of our fold. Mick, Louise and William setting off back to blighty for personal commitments. We were sad to see them go, all friends. William had been a wonderful catalyst for joy, seeing the adventure through the eyes of one so young. Louise, so friendly, kept smiling all the while, despite some scary moments (including, notably, camel spiders). Mick's great knowledge was a constant source of assistance and interest, whilst his face upon leaving us revealed a Yorkshire grit with a very soft centre.
Our party of overlanders now numbering nine, 'twas time for us too to leave our lovely bolt hole in the sky for the plains of Morocco and we headed north once again to Marrakech.
At Asni the Toubkal range stood out magnificently, snow-capped peaks dominating the row of €900 Richard Branson tents beneath. Maybe next time.
Marrakech brought the best campsite yet, a hippy French couple having transformed a piece of virgin soil into a tropical oasis 13km out of expanding city limits.
We then bid sad adieu to Yahya our Berber guide. It is good to make acquaintance with such quality people.
He offered to be our guide up to Toubkal on a future trek. Another reason to return.
Great guy, although he does look better in a black head scarf.
And he plays footy.
And he plays in goal, which means he is actually quite mad, like all goalkeepers.
He has fitted in with us perfectly.
- Posted using BlogPress from my iPhone